ARB TJ - YJ FRONT STUBBY BULLBAR BUMPER (3450350)
ARB's Deluxe Bull Bar selection is the most extensive. Loaded with features aimed at making remote area travel safe, no other bumper offers the same degree of vehicle integration, protection or functionality.
About the product:
Quadratec Edition Bull Bar construction starts with a 3mm thick steel plate that's laser cut to form the component parts. These parts are then folded to make up the sections of the bull bar. CNC machines ensure consistency and quality results as the formed panels are fully welded utilizing robotic welders and grinders for a precision finish. The 60mm OD bull bar hoops are 2.6mm thick and mandrel bent for even wall thickness across all sections. Final finishing begins with vigorous steel shot blasting followed by a phosphate metal prep solution bath. Bars are hung to dry on a conveyer and sent though an automated powder coating booth and oven baked to a rich and durable finish.
Features:
The integrated winch and fairlead mount plates allow maximum bumper approach angles and winch protection and tested to endure extreme winching loads. The securely welded light mount tabs are ideally located and spaced 12" apart. Fully welded D-ring mounts accommodate ¾" clevis pins into cross section plates and provide additional structural rigidity to the bar. When installed, ARB Bull Bars act as an integral cross member to spread impacts and winching loads evenly.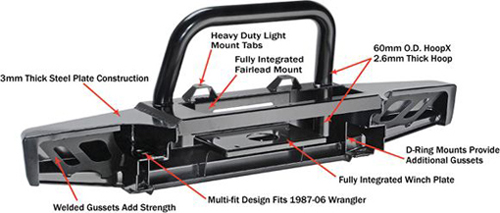 Air Bag Compatibility:
To ensure airbag compatibility, ARB recognizes frontal crush characteristics through computer models and replicates the crush rate into the design of each bull bar and its mounting system. This method enables engineers to achieve maximum possible vehicle and passenger protection without affecting proper air bag deployment.
---
Shipping Weight: 52 KG
---
Fitting Details:
This part number will fit the following makes/models:
Jeep Wrangler YJ, TJ 86-07 Unlimited
/ images